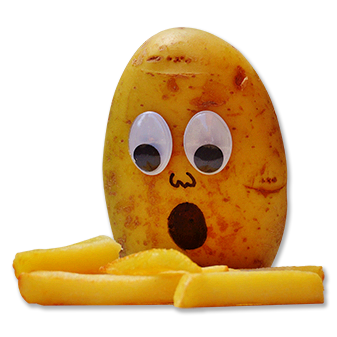 LITTLE CELEBS
Served for children under 9 years of age with an accompanying adult
FISH FINGERS & CHIPS
Our own haddock goujons in a light golden batter served with homemade chips, tomato & cucumber
---
CUMBERLAND SAUSAGE
Cranston's quality sausage served with homemade chips, tomato & cucumber
---
HOMEMADE CHICKEN DIPPERS
Chicken breast in a light batter served with curly fries, tomato & cucumber
---
KIDS CHEESE & TOMATO PIZZA
---
A generous scoop of creamy Vanilla ice cream with strawberry or chocolate sauce, mini mallows and a wafer for only
Homemade Chips
French Fries, Curly fries
Homemade beer battered onion rings
Dips: BBQ, Sweet Chilli, homemade chutney
Garden salad
Garlic ciabatta & mozzarella
Homemade Coleslaw
Baked Beans
 ALLERGEN INFORMATION
If you have a food allergy or special dietary requirements please inform a member of staff. All our food is prepared in a kitchen where nuts, gluten and other known allergens maybe present. Please note: we take extreme caution to prevent cross-contamination, however, any product may contain traces as our entire menu is produced in the same kitchen. Our dish descriptions do not include all of the ingredients used to make the dish. Therefore, if you have a food allergy please speak to management before placing an ordering. Full allergen information is available.
PLEASE ASK TO SEE A COPY OF OUR GLUTEN FREE MENU
Sign up to make sure you are first to know about our discounts, new products, news and events
Connect and share on our social channels.